Home | About | Record Cleaning | Conversions to CD | Conversions to DVD | Contact | Testimonials | FAQs | LP Revivalist Club

Even a small record collection of around 500 records represents a substantial investment of around $15000 or so at current prices. Many collectors have record collections that number in the thousands. An audio enthusiast will play these on a turntable that costs several thousand dollars with a cartridge that can easily cost $2000 or $3000 itself. However as Linn HiFi said when promoting their famous Linnsondek LP12 turntable thirty years ago, the source is the most important component of a system. That source is not the turntable or cartridge, it is the record! If the record is not clean then the sound will deteriorate with pops and crackles and if you are really unlucky, cracks from scratches. It is vital to clean the record to remove the accumulated dust, grime and grease that has got into the grooves over the years since the disk was pressed. This cannot be done except with a wet/vacuum process on a professional record cleaning machine. We use a Moth MkII record cleaning machine with L'Art du Son professional cleaning solution. This solution is not alcohol based and we find it gives a superior quality to the sound produced from the cleaned record. We have cleaned records that were previously unplayable and the results are quite remarkable with the sound emerging as though from behind a curtain. Also newly pressed records can be cleaned so the residue left in the groove by the pressing process can be removed. Just because they are new does not mean that they are necessarily clean.
The degree to which the sound improves does vary of course, if the record has been played with a worn stylus at the wrong tracking weight then unfortunately parts of the walls of the grooves of the record, which contain all the information, can be worn away and hence cannot be recovered by cleaning. But provided the record has been played by a well maintained high quality turntable then you will be amazed what can be achieved with a simple cleaning process.
After we clean your records we sample a track on each side of the album and we provide you with a condition report. We grade the album on a scale from 1 ( poor condition ) to 5 ( excellent ). Any albums rated 2 or 3 are candidates for the LP to CD service which can remove the scratches, crackles and pops. If you choose to have your LPs converted to CD at the same time as they are cleaned then you only pay for the LP to CD conversion, cleaning is free of charge.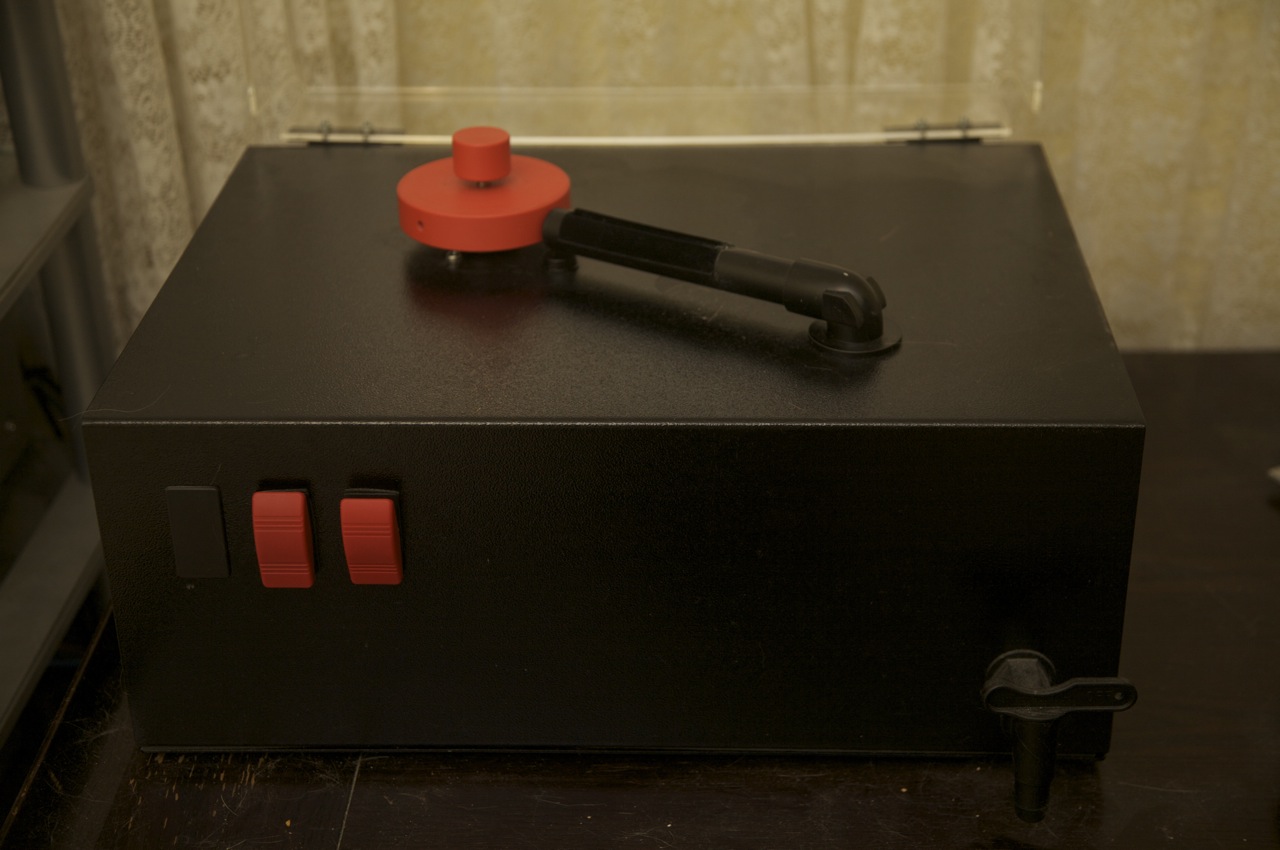 We will clean your records using our Moth MK II RCM pictured above for the following prices:
1-5 records: $7.00 per record
Multiple discounts apply for bulk orders: 6-19 records 5% discount, 20-49 records 10% discount, 50-99 records 15% discount, 100+ records 20% discount.
All prices include GST and exclude shipping.
In Sydney if you order more than 30 records cleaned then we offer a free pickup and delivery service to any location within 40Km of the CBD.
LP Mailers that can be used to send up to 5 LPs can be supplied to you on request for $12.00 each, or $14.00 for two, which includes postage to you. These can then be reused to send us your albums and we will reuse it to return your albums after we have done the work requested. Just call us on 02 9572 7005 to arrange this.
© 2008 Cart Sea Pty Limited ACN 104 012 811 | Privacy Policy | Terms Of Use | Site by Cart Sea | Legals by Cosentino Legal